Linda Green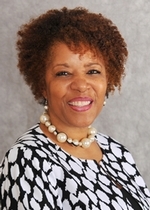 202.364.1700 x-140
202.537.0160 fax
301.467.2732 cell phone

LGreen@EversCo.com
4400 Jenifer Street, NW
Washington DC, 20015
Receive Email Alerts from Me
Linda R. Green –
Meeting Your Needs…Exceeding Your Expectations!
Linda has more than 25 years of experience working in the service industry and prior to joining the team at Evers & Co., she worked with the leader in the service industry, Marriott Corporation.  It was there that she learned the value of providing excellent service and adopted the mantra of the "Spirit to Serve".  Her goal is simple, a commitment to Service Excellence!
Linda is a true professional with over ten years of real estate experience in management, development, and new homes sales.  She knows every inch of a home and works to help you envision all the possibilities when you are buying and because of her design experience, she knows how to stage a home for maximum market appreciation when you are selling.  There is nothing Linda enjoys more than helping people realize their dreams.  She is dedicated to working as hard as necessary to make sure you have all your questions answered, your needs fulfilled, and you enjoy the process along the away!
Linda is licensed in Maryland and the District of Columbia and specializes in Northwest Washington, Southern Montgomery County, and Prince George's County.