Kimberly Wheatley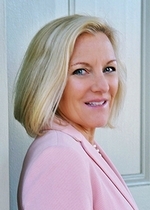 Kimberly Wheatley brings a professional background in interior design and home renovation and construction to her real estate career.
A graduate of The New York School of Design, Kim has provided the design for commercial and residential real estate from the inside out, including projects as diverse as the corporate headquarters of Proctor and Gamble and the Equitable corporations, The Miami Theatre of Performing Arts and numerous New York City hotels. When Kim and her husband, Bart and their two teenage sons relocated to Harpers Ferry, West Virginia, Kim joined her husband in his Residential Historic Renovation and Custom Homes Construction firm, providing design services to his Virginia and West Virginia clients and for other clients.
For Kim, the real estate profession is a natural extension of her lifelong personal and vocational interest in helping people find the perfect fit of comfort and style in their home.